Welcome to the
Grow Your Blog Party
that is being hosted by Vicki of
2 Bags Full
! Come to the party and stop at over 400 blogs and find new friends, new interests and share your blog with everyone!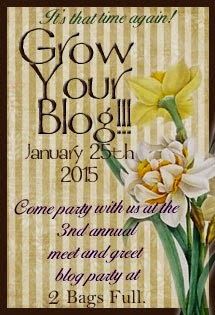 Vicki has suggested we chat about ourselves and share our blogs. I'm into quilting and want to share with friends what I create. I have tons of UFOs and I try to proclaim that I'm going to get all these quilts done so I actually use my blog as a journal of my accomplishments, failures, and as my to-do list!!! I get so sidetracked with life and grandchildren that quilting seems to fall to the bottom of the to-do list. Anyway, if I don't post, it's because I didn't quilt and since it's a quilting journal, I steer away from too much personal life stuff!!! I try not to point out my mistakes, but that's mostly what I write about!!!
So, check out my some of my quilts and studio pics which need to update them already...things have changed, but it's getting there. I have a tab with a list of all the quilts I started each year (not very many are crossed off!!!). I'm always looking for someone or two or three that has the same procrastination problems as I have and would love to connect with those as a way to motivate me as I'm retired and have lots of time (when I'm not visiting my grandchildren) to quilt if would just DO IT!
Glad you've stopped by and leave me a comment and I'll be sure to visit you, too!!! I hope you enjoy the Grow Your Blog party and be sure to enter any of the giveaways you come across and hope you find a new blog or two and a new friend or two.
Thanks, Vicki for hosting this
great blogging event
again this year!!